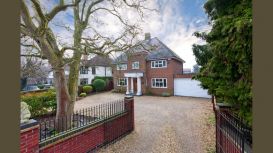 Chris George The Estate Agent brings you the clarity, style and efficiency of the latest technology and cutting edge marketing. We insist on the highest-standard professional photography to feature your property in the best light. We produce an ultra stylish sales brochure that tells the story of your home in language that everyone can understand.
We are committed to our community, so we chose to site our smart new modern offices right in the heart of Kettering and to give real support to two local charities, Cransley Hospice and Crazy Hats. And we guarantee you will find no higher standard of customer service in the property business.
---
Reviews and Ratings
Chris Goodrich, Kettering, Northamptonshire
Superb experience with Chris George from start to finish. They sold our house within weeks, and we amazed by their professionalism and the photography. They were really friendly and helpful throughout. It was really assuring to us as well following the accepted offer to have such a proactive and professional team of sales co-ordinators. A massive thank you to every member within the team who has worked hard for our house sale, and delivered beyond expectations. Easily the best estate agent in Kettering.